UNFORGETTABLE WEDDING FLOWERS
Flowers play such an important and meaningful role in your wedding celebration – they can transform your venue, elevate your décor, and help you to make incredible memories. Each time you catch a scent that formed part of your bouquet, you'll be transported right back to your wedding day.   
I specialise in wedding flowers that are beautifully imaginative and original, cleverly designed to make an impact and to create an atmosphere of timelessness and romance. Taking your ideas and inspirations on board, I'll put together a suite of seasonal floral designs that suit your personal style and the style of your celebration. Wherever possible, I'll use British flowers, sourced from some of the country's most vibrant and passionate growers and flower farmers. My goal is for the two of you to feel confident and relaxed about every aspect of your wedding flowers – the planning should be part of the fun. Below you can find out more about the process of designing and installing your unforgettable wedding flowers.
"They were honestly more beautiful than we could have ever imagined!!! I will always remember that day now when I smell a Margaret Merril rose!"
Step One: After you enquire with me, we'll have a chat on the phone or on Zoom to get to know each other. I want to hear all about your wedding day and the gorgeous details you're planning, and get a feel for the things you love to help inspire your floral designs. If you've got a moodboard or a Pinterest board, feel free to share this with me before our call.
Step Two: Come for a visit to my workshop where we can go through my initial ideas, you can explore my beautiful range of props and vessels, and the designs for your wedding flowers can start to take shape (we can toast your celebration with some of the homemade organic cider made from the apples in our orchard). If it's more convenient for you to meet at your venue, we can arrange this instead.
Step Three: I'll put together visuals of your designs, showing the proposed colour palettes and varieties that will make up your arrangements and installations. I'll use my knowledge of seasonality and connections with local growers and flower farms to make your flowers sing and make sure your arrangements are sustainable as well as stunning. You'll also receive a detailed itemised costing based on your proposed budget, to help you see exactly how much everything will cost.
Step Four: Time to make it official. If you would like to go ahead with my proposal, a booking fee is now payable to confirm your wedding date in my diary.
Step Five: Sit back and relax, knowing your romantic, original wedding flowers are being expertly taken care of. The full balance is payable six weeks before your wedding day. My team and I will install and arrange your flowers at your venue, and will hand deliver your bridal flowers on the morning of your wedding.
"Despite the heat on Friday, all of the arrangements looked utterly beautiful
and the site at the church with the floral arch…WOW!!"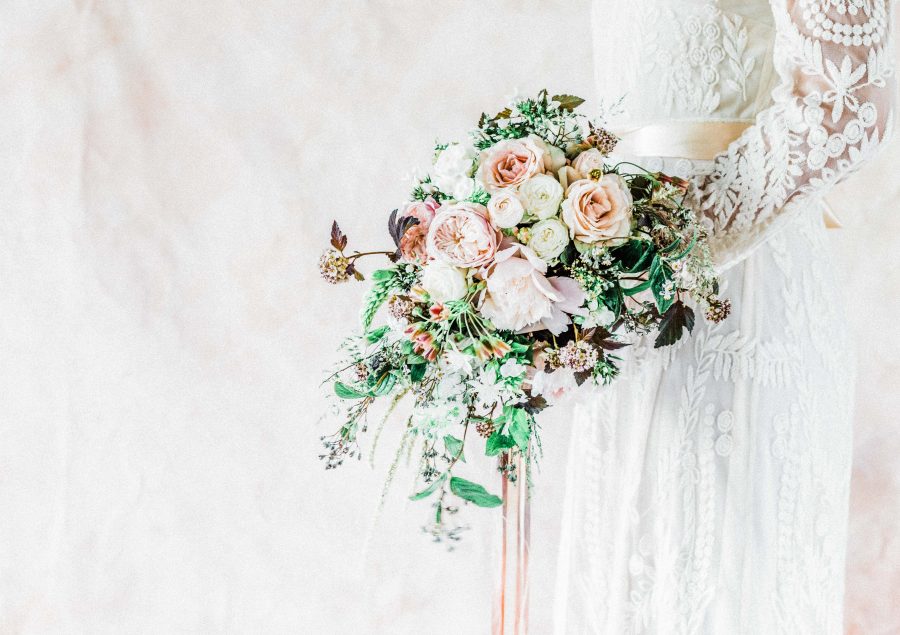 I'd love to hear more about the celebration you're planning. Fill in the form below, and I will be in touch very soon.