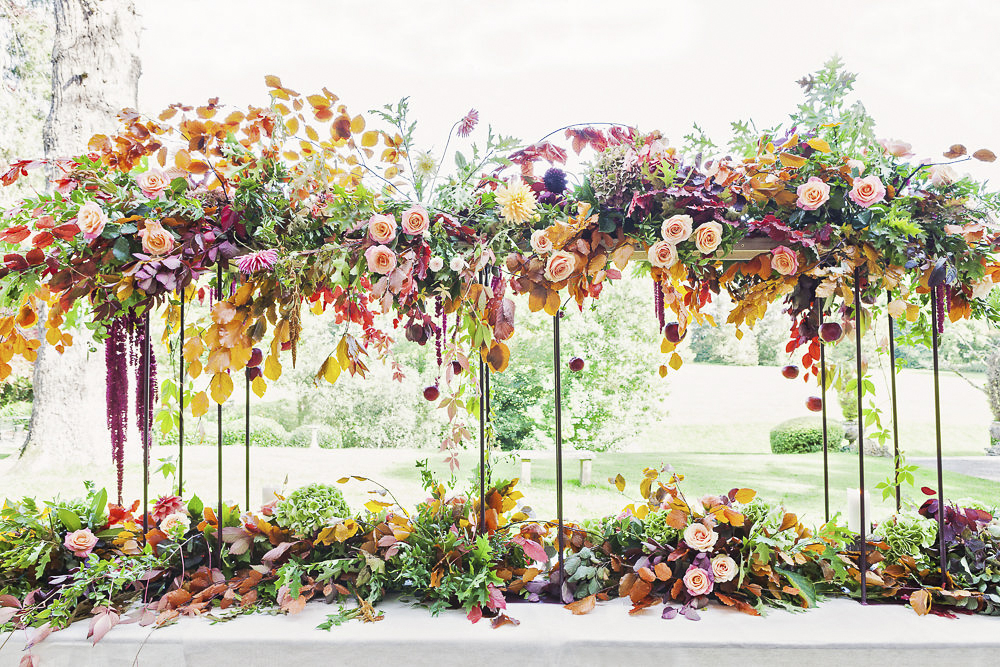 Date
05 Oct 2021
- 08 Oct 2021
Expired!
Cost
£2,200.00
3 Weddings in 3 Days
3 Weddings in 3 Days remains one of the most groundbreaking workshops in the industry. Some of today's trending props and designs were first seen on this course, and it continues to inspire and attract florists from all over the world who want to expand their knowledge and portfolios.
We designed this intensive three-day residential course to give a unique insight into the creative process of designing, installing and styling a wedding, from concept to completion. Hosted at stunning Georgian country manor, Homme House, this is your chance to escape from the everyday and immerse yourself in some beautiful surroundings and truly fabulous flowers.
You'll have the chance to design and fully flower three very different weddings of different styles, briefs and budgets. Working together with your fellow attendees, you'll create spectacular large-scale designs, using Sabine's innovative eco-friendly techniques and a mountain of fresh summer flowers. You'll also be working on your own individual designs on a smaller scale, which are yours to keep. 
During the course of the workshop you'll have access to Sabine's floral and business expertise, with ample time for questions and 1:1 support. 
We're thrilled that fine art photographer Emma Pilkington will be joining us for the duration of the workshop to document your work, and provide you with some exquisite professional images for your portfolio. 
This very special course is limited to 10 attendees. Early booking advised.
"For me, 3 weddings in 3 days is the most comprehensive short course out there. I can't recommend it enough. Sabine has an incredible way of making every project seem tailor made for you, even though you are working in a group setting. Her knowledge is endless – there is literally no question she can't answer. The flower and prop quality is excellent, you have a model to pose with all personal and group work, and the photos you receive shortly after the course are beautiful. Each day is jam-packed. It is worth every penny and much more rewarding then other courses I have been on." – Gabriella Shemtov
What To Expect?
We are always introducing new designs, mechanics and elements to our course often starting a new trend!
Below is a typical schedule, but content and timings are likely to change.
Day 1:  Luxury
Extravagant and glamorous, with a high volume flower content.
Large floral arch.
Large scale elevated designs.
Cascade bridal bouquet.
Styled set up and professional photo shoot with Emma Pilkington.
Day 2:  Elegant
Classically and timelessly romantic, using the best summer flowers.
Large scale foam free designs.
Natural garden style table décor.
Floral accessories.
Styled set up and professional photo shoot with Emma Pilkington.
Day 3:   Relaxed
Creating relaxed informal atmospheres using wild and organic elements.
Natural bridal bouquet.
Floral crown.
Ceremony flowers.
Styled set up and professional photo shoot with Emma Pilkington
Question & Answer session.
What's Included?
All flowers and materials you'll need to create all designs.
Apron and scissors to keep.
3 nights' luxury accommodation in the main house and 18th Century Coach house at Homme House, Ledbury.

 

Breakfast, lunch and dinner (dinners served at the table we've flowered, for a beautifully atmospheric setting).
Tea and coffee throughout the course.
Professional images of your work throughout the course, shot by fine art photographer Emma Pilkington.
A selection of props, linens, vessels and other styling accessories for you to get the most out of your shoots with Emma.
A detailed breakdown of all flowers and materials used in each design, showing clearly the quantities, costing labour time and profit margin with suggestions for mark up will be emailed to all attendees after the workshop.
Access to a private Facebook group for continued mentoring and advice from Sabine after the workshop is over.
"Thank you so much for your hospitality and everything you've taught us over the last few days. This course was everything I hoped for and so much more… I can't be more thankful for all that I've learnt.
You are such a great teacher, who breaks up all the daunting arrangements and installations into simpler, digestible, easy-to-follow steps – can't ask for more!
Definitely the highlight of my maiden trip to the UK – I hope to be back again." Daisy | Singapore